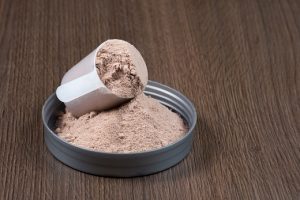 As a growing population of health-conscious individuals continue to look for new ways to improve their nutrition, it's no surprise that protein powders have become so popular in recent years. In fact, the global protein market soared to $14 billion in 2018 and is expected to continue an upward trend through 2025. Protein powder is more popular than ever, making it incredibly important for businesses to partner with the right protein manufacturer to remain successful.
Keeping a pulse on what your current customers and the target markets you are attempting to reach want will ensure you are consistently growing. While you may already have a single protein powder in your product line, it's important to determine whether or not you could benefit from added protein types or an expanded range of flavors. Because JW Nutritional is rooted in manufacturing protein powders, we can help create a high-quality and great tasting product your business will be proud to bring to market.
With the rising popularity of protein supplements, it's important to understand what customers are contributing to this growth and positioning yourself well enough to capitalize on the segment that is still looking for the protein powder that is right for them. In most cases, the initial groups you will observe are hardcore bodybuilders, fitness fanatics or casual dieters that want to make a lifestyle change. Once you have chosen one of these segments, you can then dig a little deeper into the niche areas they encompass.
JW Nutritional can help manufacture a wide variety of protein types and can provide additional services like R&D or flavor development. In the event you want to hit the market faster, we also have several great private label protein products that can be positioned to meet a variety of nutritional goals. If you are ready to take advantage of the current and future popularity of protein powders, we are a partner you can trust to get started!
LEARN MORE ABOUT PROTEIN MANUFACTURING
Why JW Nutritional for Supplement Manufacturing?
JW Nutritional can manufacture a wide variety of supplements to suit the needs of your customers. With the inclusion of our complete packaging solutions including bottles with lid closures, sachets, stick packs and zip-seal bags, clients can receive a complete product that is ready for order fulfillment. If you are interested in the vitamin manufacturing services we offer, please contact us today!