Sports Nutrition Manufacturing
JW Nutritional is committed to manufacturing the best possible sports nutrition products our clients can obtain. Athletes are known for their superior drive and commitment to excellence, we believe that every sports nutrition product we manufacture should live up to these standards while remaining affordable to both our client and their consumers.
Quality Sports Nutrition product manufacturing at an affordable price point
We currently operate out of two separate facilities that cover over 120,000 square feet within the Dallas-Fort Worth metroplex to fulfill the sports nutrition manufacturing requests of all types. With many different mixers in a variety of sizes, dedicated tablet presses and various encapsulation machines we can make any supplement needed by our clients. JW Nutritional also has a complete, automated packaging line for capsules and tablets to facilitate the packaging needs of our customers.
When we first receive the formula, our Research and Development team gathers all the ingredients and associated prices in our theoretical stage. We will then quote the formula to the customer at that point; and if we have approval on that price, we will move forward to physically gathering the ingredients to make test batches which will be sent out to the customer for taste/efficacy/appearance approval.
During these processes, we look to our nearly 260 vendors to find the best ingredients, the best flavors, the best packaging, etc. that are out there. We will not stop looking until we find ingredients and components that meet our high standards and match the expectations of our customers. Sports nutrition products we manufacture include: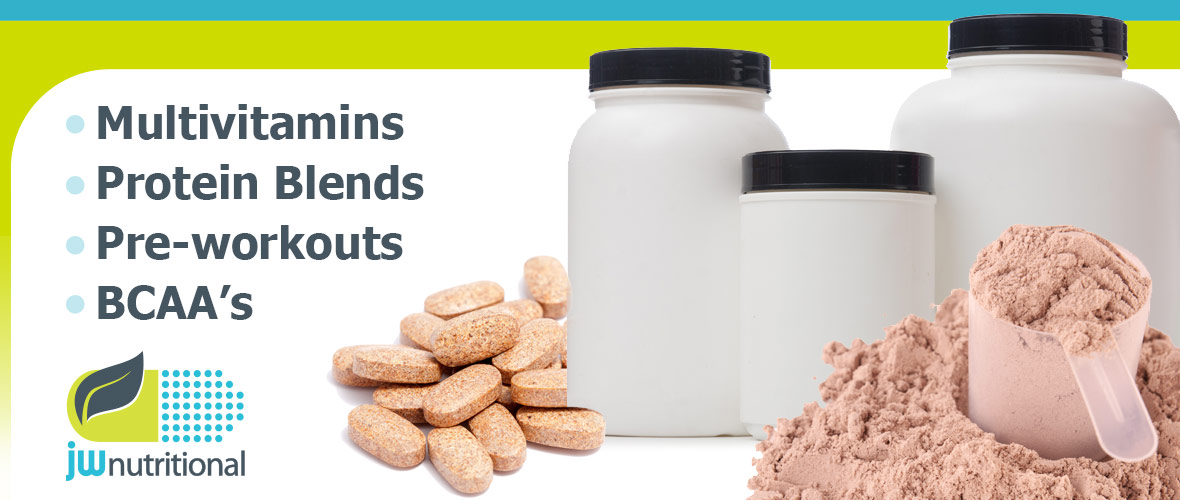 BCAA Blends

BCAAs, or branched-chain amino acids, are often promoted as a way to decrease muscle fatigue while increasing muscle function both during a workout and after a workout has finished. BCAAs are essential amino acids that function as the building blocks of protein.

Multivitamins

Multivitamins go great in capsules, tablets, or powders, and we can package any of these in multiple ways. That way, you deliver exactly what you want to your customer. No matter what type of powder supplement you are interested in creating, JW Nutritional can make your product vision a reality.

Protein Blends

Protein blends can be sourced and processed in a variety of ways to meet certain protein needs and dietary restrictions. For more information on protein blends please see our protein manufacturing page or call us today to speak with a company representative.
Why choose JW Nutritional?
No Minimum Orders

No job or project is too big or small to be considered at JW Nutritional. Each project receives the same attention to detail our clients have come to expect.

Private Label Manufacturing

No job or project is too big or small to be considered at JW Nutritional. Each project receives the same attention to detail our clients have come to expect.

Turnaround Times

Our two facilities ensure fast turnaround time for all outgoing completed orders. Allowing us to meet fast turnaround deadlines more efficiently than our competitors.
NSF Certified Facility

Our facility in Allen, Texas is certified by the National Sanitation Foundation and our new Plano, Texas facility is currently seeking certification.

We are Flavor Experts

We have a wide variety of flavor components to choose from that range from cheap-and-efficient to expensive-and-addicting.

Manufacturing Capabilities

We house advanced manufacturing capabilities, including high-speed rotary compression machines, large volume blenders, high-efficiency milling machines, encapsulation machines, and tablet presses.
We are ready to start your formula, are you?
JW Nutritional can create custom formulas for our clients. Depending on the process and whether we are bringing in new ingredients, creating custom formulas in the R&D stage can take anywhere from one week to one month. That includes theoretical development, quoting, making test batches and scaling up the test batches when necessary. If you are interested in the sports nutrition manufacturing services we offer, please contact us today!
Our Sports Nutrition Manufacturing Advantages
Versatile Supplement Options
We can manufacture a wide variety of supplement types to suit many different needs. No matter what type of sports nutrition supplement you are interested in creating, JW Nutritional can make your product vision a reality. With our extensive sports nutrition supplement manufacturing experience, we are prepared to fulfill your supplement manufacturing needs.
Cutting Edge R&D Services
Our Research and Development team is proficient at determining powder flowability, anti-caking, ideal fill weight, odor-masking, and any other areas of concern. With our range of equipment, we will efficiently and affordably provide you with a product of the highest quality.
Complete Design Solutions
Even with a superb product, you will need a superior packaging design to catch your customer's' attention. We can direct you to excellent graphic artists who can give you a unique design for your product line. Even if you use your own designer, our Quality Assurance team will review your labeling for FDA compliance as a complimentary service.
Affordable Supplement Manufacturing
JW Nutritional provides affordable sports nutrition supplement manufacturing services to assist the growing needs of the supplement industry. With a commitment to customer service and superior product quality, customers can be sure we have their best interests at heart. Contact us today to see how we can affordably manufacture your sports nutrition supplement products!
Customer Service is our #1 Priority at JW Nutritional
JW Nutritional started out very small and only manufactured protein blends for our clients. Since then, we have grown to provide capsules, tablets, and flavored powders for sports supplements as well as weight loss and general health products. Due to our humble beginnings, we value every aspect of the product development process.
Customer Service
Prompt Quotes
Flexibility