Tablet Manufacturing
JW Nutritional has the tableting solutions and equipment needed to make your product vision a reality. Tableting is our specialty and we can do just about any kind you're looking for utilizing a wide variety of ingredients to meet your needs. Contact us today to see how we can affordably manufacture your tableted products.
Start your custom formula today!
TABLET MANUFACTURING EXPERTS
EXCEPTIONAL MANUFACTURING CAPABILITIES FOR A WIDE VARIETY OF TABLET OPTIONS
JW Nutritional can create tablets from a wide variety of ingredients at a price point that will benefit both the starting entrepreneur or established supplement industry leader. Over the years, we have become especially adept at formulating great-tasting tablets with good mouthfeel at an affordable price. Our team of formulators is skilled at working with or covering up the natural taste of ingredients ranging from vitamins and minerals to amino acids and herbs.
We will utilize cutting edge manufacturing equipment to ensure your product consistently meets quality standards expected by both consumers and regulatory agencies. For most tableting orders, a 32-cubic foot mixer will be used to blend formulas to retain a standard mixture quality. Once a tablet formula has been perfected and blended, the tableting process will begin in either our Stokes #515 or #328 tablet presses depending on the order size.
You might be surprised how many different types of tablets exist. Tableting is our specialty and we can do just about any kind you're looking for. Here are a few examples of the tablet types we can make:
Coated or Uncoated – Many different film coatings exist for a variety of practical reasons. Sugar coatings are often used to mask the taste of unpleasant ingredients that are used and often are very bitter. Coatings can also prevent light or moisture penetration to preserve the integrity of the tablet.
Sublingual – Sublingual tablets are designed to bypass first pass metabolism by absorbing within the mouth. These tablets are placed under the tongue, where they will dissolve and then absorb. This process can help bypass passage through the liver and make active ingredients more effective.
Chewable – Chewable tablets are often pleasantly flavored to allow the tablet to be chewed prior to swallowing. Advantages of using this form of tablet include stability, dosing control and desirable flavor profiles. Chewable tablets are useful for administering a large dose all at once.
Delayed Release – Delayed release tablets receive an enteric coating to protect the tablet from dissolution due to stomach acid, instead dissolving in the small intestine. If the active ingredients within your tablet are susceptible to damage in the stomach, the coating may be necessary for maximum effectiveness. However, some ingredients can remain uncoated due to acid resistance.
Effervescent – Effervescent tablets are manufactured to rapidly breakdown within a liquid. This means that the ingredients will dissolve within the solution more effectively. These tablets also tend to create a froth due to a release of carbon dioxide.
JW Nutritional can manufacture your tablets with a wide variety of shape options, imprinting options and coating options. With the inclusion of our complete packaging solutions, clients can receive a complete product that is ready for order fulfillment. If you are interested in the tablet manufacturing services we offer, please contact us today!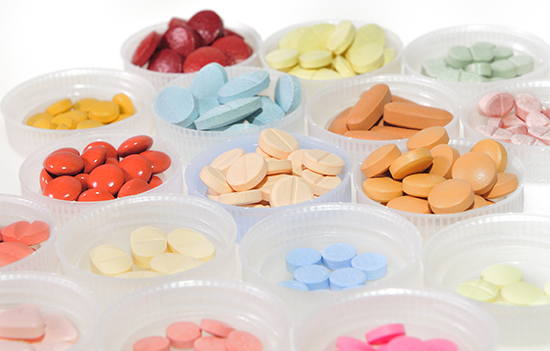 TABLET MANUFACTURING ADVANTAGES
CUTTING EDGE R&D SERVICES
Let our Research & Development team work for you to create a great tablet. With our years of experience in creating and producing tablets at an affordable price, we are your go-to manufacturer for all your tableting needs. If anyone can tablet it, we can!
VERSATILE TABLET OPTIONS
We can manufacture a wide variety of tablets to suit many different needs. Whether you are interested in creating a chewable tablet, effervescent tablet or coated tablet, JW Nutritional can make your product vision a reality. Our tableting machines also allow for many different imprinting and shape options to further personalize your tablets!
COMPLETE DESIGN SOLUTIONS
Even with a superb product, you will need a superior packaging design to catch your customer's' attention. We can direct you to excellent graphic artists who can give you a unique design for your product line. Even if you use your own designer, our Quality Assurance team will review your labeling for FDA compliance as a complimentary service.
| Category Options | Coating Options | Shape Options | Imprinting Options |
| --- | --- | --- | --- |
| Bi-Layered | Color Coated | Round | None |
| Time-Release | Sugar Coated | Caplet | Imprinted |
| Sublingual | Enteric Coated | Oval | |
| Chewable | Film Coated | Geometric | |
| Effervescent | Pharmaceutical Glazed | Irregular | |
AFFORDABLE TABLET MANUFACTURING
JW Nutritional provides affordable tableting manufacturing services to assist the growing needs of the supplement industry. With a commitment to customer service and superior product quality, customers can be sure we have their best interests at heart. Contact us today to see how we can affordably manufacture your tablet products!
We make great products and brands
JW Nutritional has two facilities encompassing over 120,000 square feet within the Dallas-Fort Worth metroplex. Multiple locations ensure expedited shipping and the ability to meet fast turnaround deadlines more efficiently than our competitors.
With our state-of-the-art manufacturing equipment, we can custom manufacture many types of nutritional products. Items such as vitamins, supplements, functional foods, and pet nutrition products can be quickly produced with ease.