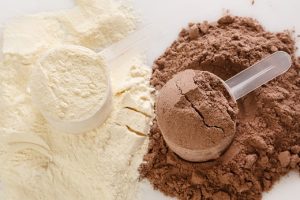 When choosing a protein manufacturer there are several factors that must be taken into account to ensure you receive the best possible finished product to benefit both your business and the customers that trust it. Without asking the right questions, your products may not be what you expected. Here are some of the questions to ask your protein manufacturer:
Why Types of Protein Do You Manufacture?
Depending on your customer base and their specific dietary requirements, they may need a very specific type of protein. For this reason, it is important to ensure that your protein manufacturer provides a wide variety of protein types. This is especially beneficial if you plan on expanding your protein offerings in the future.
A good mix of protein types will include both whey protein and whey protein derivatives as well as vegan proteins and protein powders that are manufactured from plant-based sources. Though this spectrum may seem broad, many reputable and affordable protein manufacturers will be able to successfully manufacture your protein powders from a wide variety of sources. This is arguably one of the most important questions to ask your protein manufacturer.
How is the Protein Flavored or Sweetened?
Protein powder that is unflavored or unsweetened generally won't provide an enjoyable experience for the end user. For this reason, protein manufacturers will generally provide flavoring services to give a wide variety of flavors to the finished product ranging from rich dessert flavors to fruit flavors. Protein manufacturers like JW Nutritional have dedicated flavor development and R&D to ensure the best finished flavor possible.
Like flavoring, choosing the right sweetener is also important. For this reason, determining the sweetener used in your is also another great question to ask your protein manufacturer. In recent years, there has been a big push away from aspartame, leading to sucralose, stevia and other natural flavors becoming more prevalent in protein powders and other nutritional supplements such as pre-workouts and BCAAs. Ensuring your protein products have flavors and sweeteners that will target a broad spectrum of shoppers can ensure the continued growth of your business.
Why JW Nutritional for Protein Manufacturing?
JW Nutritional provides superior protein blending and protein manufacturing services with a dedication to quality and affordability. With our business rooted in protein blends, our commitment to manufacturing the highest quality protein products on the market remains one of our core focuses. Call us at (214) 221-0404 or contact us today to get started!