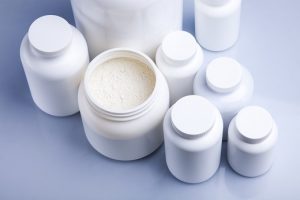 If you are looking to break into the sports supplement industry or are looking for an easy and quick way to offer new and exciting products to your customers, you likely have heard of private label supplement manufacturing. Through private label supplement manufacturing, companies can expand their product categories that customers are actively searching for. Here are some of the ways private label sports supplement manufacturers can help improve your business:
Full Product Control
When you work with a private label sports supplement manufacturer, you are provided with previously perfected formulas that can be rebranded to meet your existing product lines. This helps supplement lines expand their product offerings without sacrificing their existing branding. When you work with private label sports supplement manufacturers you will also have the ability to set your own price margins to remain competitive.
Product Consistency
Private label sports supplement manufacturers provide pre-formulated supplements for maximum product efficacy and quality. This ensures that each time you order the private label supplement again, you will receive the same consistent product each and every time. Investing in private label supplements can help build brand loyalty among your customers and encourage repeat business as they are receiving the same product each time.
FDA Compliance
To sell your products in most major retailers, working with a private label supplement manufacturer that is FDA compliant is a necessity. At JW Nutritional, we strive to meet all regulatory requirements set forth by the FDA and have also received a Good Manufacturing Practice certification from NSF. Finding a supplement manufacturer with these certifications is critical to the continued success of your products and product lines.
Pre-Formulated Products
As a supplement line owner, you generally will have to come up with your own product formulas or work with a manufacturer to enhance or perfect them. With private label supplements, you are provided pre-formulated products that require no initial legwork from you. This ensures that anyone can get into the supplement industry and provide a wide range of products easily.
Why JW Nutritional for Private Label Supplement Manufacturing?
JW Nutritional provides many private label supplements to our clients to ensure they have the products they need quickly and efficiently without all the legwork required in perfecting their formulas. We have taken the time to create the best private label supplements available and take pride in offering them to our clients at an incredible value. Contact us to learn more about this service or our other supplement manufacturing and protein manufacturing services to get started!