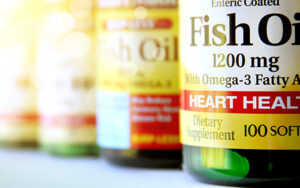 Fish oil and omega-3 regulate various biological processes such as reducing pain and inflammation. Due to the numerous health benefits, people are turning towards taking fish oil and omega-3 supplements.
These supplements have many important functions, such as reducing pain and inflammation and preventing clots in the blood (1). They are also known to protect the brain and help with eyesight betterment.
What is fish oil?
Fish oil includes two essential omega-3 fatty acids: eicosatetraenoic acid (EPA) and docosahexaenoic acid (DHA). The most common omega-3 fish oil sources are oily or fatty fish, such as salmon, sardines, tuna, mackerel, and trout.
According to the recommendation of the American Heart Association (AHA), everybody should consume fish twice weekly to keep up the level of fish oils and omega-3 fatty acids. However, supplementation is another great way to consume their regular dose.
Potential health benefits
According to scientists, fish oil and omega-3 deficiencies cause serious health problems (2). Therefore, taking supplements containing fish oil and omega-3 can significantly benefit people and help reduce the risk of these health problems.
Fish oil and omega-3 supplementation are known to reduce blood pressure, cholesterol, and triglyceride levels in hypertense people. They also improve heart health, thus reducing the risks of mental conditions such as heart attack and cardiac arrest. According to a study, people who regularly ate the supplement for a month or more had improved cardiovascular health during events causing stress (3).
Fish oil and omega-3 supplements also help improve the mood of people suffering from chronic depression. Research indicates that pregnant females deficient in omega-3 are at a high risk of developing postpartum depression. Taking these supplements during pregnancy can remarkably decrease such risks.
Omega-3 is known to protect the brain and nervous system. Thus, it helps patients who have multiple sclerosis (MS). Its supplementation also helps in numerous neuropsychiatric conditions, such as dementia, schizophrenia, PTSD, Parkinson's disease, and mental deterioration, such as memory loss.
Having an adequate daily omega-3 dose can aid in retinal functioning and better eye health. Therefore, taking omega-3 supplements can help with age-related vision loss.
Precautions and Side Effects
Normally, fish oil and omega-3 supplementation do not have any serious side effects. However, it is better to consult a medical practitioner or healthcare provider before taking it. It is essential to check the reliability of the source providing the supplement, as some supplements might have pollutants.
The usual side effects of these supplements are indigestion, heartburn, bloating, diarrhea, and bleeding from the nose. These side effects can be reduced by consuming the supplements at mealtimes. If taken in a high dose, it can cause bleeding. For people with fish allergies, the supplement can cause an allergic reaction.
Bottomline
Fish oil and omega-3 have great nutritional value. Their deficiencies can result in various health conditions. Taking fish oil and omega-3 supplements is a great way to achieve the daily dose target. However, consuming a healthy and balanced diet has no match, and that must be the priority for everyone.
Ready to get started on your formulation or custom product? Click the link below to find out what is possible!
Why JW Nutritional for Supplement Manufacturing?
JW Nutritional can manufacture a wide variety of supplements to suit the needs of your customers. With the inclusion of our complete packaging solutions including bottles with lid closures, sachets, stick packs and zip-seal bags, clients can receive a complete product that is ready for order fulfillment. If you are interested in the vitamin manufacturing services we offer, please contact us today!
Resources
1. WebMD: https://www.webmd.com/hypertension-high-blood-pressure/guide/omega-3-fish-oil-supplements-for-high-blood-pressure
2. Medical News Today: https://www.medicalnewstoday.com/articles/40253#health-benefits
3. American Journal of Physiology: https://journals.physiology.org/doi/full/10.1152/ajpregu.00031.2013