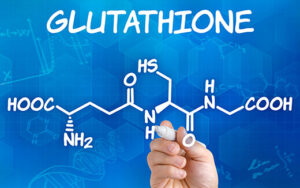 Glutathione is an antioxidant integrally present in the body's tissue. It is mainly composed of three essential amino acids: glutamine, glycine, and cysteine (1).  It assists in purifying molecules such as those found naturally in your body, pollutants, and drugs.
Glutathione has numerous health benefits. It helps fight free radicals that can seriously damage the body's tissues. Glutathione is accessible in both solutions and capsules. In some cases, glutathione pill consumption could be less beneficial than intraperitoneal infusions.
Potential Health Benefits
Glutathione is an essential component, and its deficiency can lead to numerous health conditions. According to a study published in the Journal of Cancer Science and Therapy (2), glutathione shortage increases oxidative stress, which can lead to cancer. To lower oxidative stress, glutathione maintains a balance between free radical generation and the body's ability to combat them. It protects against the effects of oxidative stress, which may lessen various diseases.
Parkinson's disease is a neurological ailment that currently has no treatment. An earlier study revealed the benefits of injectable glutathione on signs including stiffness and spasms. By following this report, it has been seen that the implication of glutathione may help lessen risk and enhance life expectancy for those suffering from this disease.
Hepatitis, excessive intake, and fatty liver disease all result in severe harm to the cells of the liver. A minor medical study performed in 2017 showed that glutathione could aid in treating nonalcoholic fatty liver syndrome because of its anti-inflammatory capabilities and detoxification capacity.
According to a survey study, glutathione either increases or decreases the body's immune response, which aids in lowering oxidative stress. Oxidative stress can be increased by persistent inflammation brought on by autoimmune illnesses. These illnesses include asthma, colitis, and osteoarthritis. Diseases with an autoimmune component damage particular cells' mitochondrion. By removing free radicals, glutathione protects the mitochondria of the cell.
A study discovered that consuming cysteine and glycine supplements increased glutathione levels. For two weeks, study subjects were given 0.81 millimoles per kilogram (mmol/kg) cysteine and 1.33 mmol/kg glycine (2).
Long-term high blood sugar levels relate to low glutathione levels. This can result in oxidative stress and muscle damage. It significantly reduced oxidative stress and injury in persons with diabetic ketoacidosis without an increase in blood sugar.
Precautions and Side Effects
Glutathione is a potent antioxidant resulting from the body's cells. Increasing the level of glutathione may have numerous health benefits but its excess can pose numerous risks too. Long-term glutathione supplementation has been associated with reduced zinc concentrations, which can result in many health problems.
Asthmatics may experience respiratory problems if they breathe glutathione. One of the most common symptoms is wheezing. It can also cause stomach cramps, vomiting, and allergies like redness. Moreover, you must consult your doctor when consuming glutathione during pregnancy.
Bottomline
Glutathione is responsible for various chemical activities in the body. Glutathione amounts in the body can be lowered by various circumstances, including inadequate nutrition, environmental pollutants, aging, and stress. However, increasing the levels of glutathione may give numerous health benefits.
Ready to get started on your formulation or custom product? Click the link below to find out what is possible!
Why JW Nutritional for Supplement Manufacturing?
JW Nutritional can manufacture a wide variety of supplements to suit the needs of your customers. With the inclusion of our complete packaging solutions including bottles with lid closures, sachets, stick packs and zip-seal bags, clients can receive a complete product that is ready for order fulfillment. If you are interested in the vitamin manufacturing services we offer, please contact us today!
Resources
1. WebMD: https://www.webmd.com/vitamins-and-supplements/glutathione-uses-risks
2. EverydayHealth: https://www.everydayhealth.com/diet-nutrition/diet/glutathione-definition-uses-benefits-more/