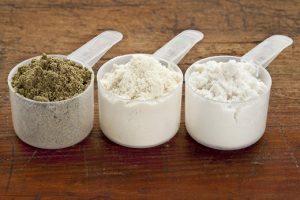 JW Nutritional is committed to providing only the best products. To prove it, we provide a full line of bread and butter supplements for you to private label. While private label supplements can take on many different forms, some of the most popular products that we see clients buying industry-wide are often bulk powders. But what kind of bulk powder supplements can you expect to find when investing in private label products and what can you use them for? Keep reading to find out!
Exemplary vendor qualification ensures we use only the highest quality ingredients, including all our sports nutrition supplement sources. With this in mind, JW Nutritional strives to offer the most complete private label product line of any other supplement manufacturer in the United States. To achieve this we offer many in-demand bulk powders like Acetyl L-Carnitine, BCAAs, Creatine Monohydrate, Glutamine and much more. In addition to these options, we also offer powdered flavor options that can be mixed into other supplements to improve their flavor profile.
While each of the private label supplements JW Nutritional offers can be taken alone to serve a distinct purpose. Many personal trainers or supplement lines will choose to combine these ingredients to create their own new products. And, while this may be great for those who have controlled environments that won't contaminate the product while mixing, it may not be the best route to take if you are able to have the supplements custom made. However, custom manufacturing will require a much higher minimum order than private label would.
If you are interested in starting your own supplement line or want to branch out with your existing supplement line to increase profit margins, bulk powders are a great fit to not only provide value for customers but also cut costs at the same time. Our private label supplements are utilized by countless large, well-known brands and start-ups that are making a splash in the industry. Let us help get you started with our experience and expertise!
LEARN MORE ABOUT PRIVATE LABEL SUPPLEMENTS
Why JW Nutritional for Supplement Manufacturing?
JW Nutritional can manufacture a wide variety of supplements to suit the needs of your customers. With the inclusion of our complete packaging solutions including bottles with lid closures, sachets, stick packs and zip-seal bags, clients can receive a complete product that is ready for order fulfillment. If you are interested in the vitamin manufacturing services we offer, please contact us today!