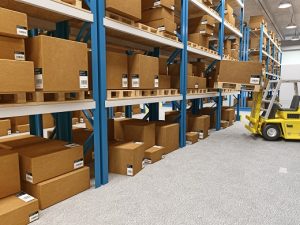 One of the biggest challenges that supplement lines face is finding the best solutions possible to not only warehouse their products safety but also ensure that they are shipped to the correct destination quickly whenever they are purchased. In an effort to bring these services to a wider audience, JW Nutritional has partnered with Midwest Logistics to not only ensure product is stored in a climate-controlled facility but also maximize shipping rates and other associated fees. But are supplement fulfillment services right for your brand? Keep reading to find out some of the signs you are ready!

You Outgrew Your Existing Storage
Most start-up brands will just store product in their garage, rented storage facility or even their home in order to quickly fulfill orders as they come in. But what happens if you need more product and don't have the space necessary to store it? Midwest Logistics has a climate-controlled warehouse ensures your products will be stored in a cool, dry environment to prolong their shelf life. Even if you are out of space in your existing storage location, Midwest Logistics has a place for your products.

You Want to Provide Drop Shipping for Retailers
Do you have in demand products that retailers are actively seeking out? With drop shipping services, online retailers are given high-quality images of your products and products descriptions that can be added to their online store. Once a sell is made, you will still receive profit from the sale and the shipping process will immediately be initiated. All you have to do is ensure your product remains in stock at the Midwest Logistics facilities as long as the drop shipping is requested to avoid shipping delays.

You Need Help with Inventory Management
When a brand partners with Midwest Logistics for supplement fulfillment services, they also get access to a proprietary inventory management system that allows them to promote, distribute and manage their inventory in real-time. Any time inventory gets low, the brand is alerted and can begin preparing to order new product. This ensures that no potential revenue is lost when a customer is ready to purchase.
LEARN MORE ABOUT SUPPLEMENT FULFILLMENT SERVICES
Why JW Nutritional for Supplement Manufacturing?
JW Nutritional can manufacture a wide variety of supplements to suit the needs of your customers. With the inclusion of our complete packaging solutions including bottles with lid closures, sachets, stick packs and zip-seal bags, clients can receive a complete product that is ready for order fulfillment. If you are interested in the vitamin manufacturing services we offer, please contact us today!