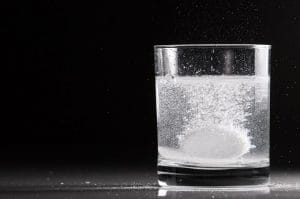 As one of the leading supplement manufacturers in the United States, JW Nutritional is constantly looking for ways to innovate and improve the products that our clients are able to provide for their customers. While you may be interested in traditional tablets, there are many benefits that can be achieved by partnering with an effervescent tablet manufacturer. In this article, we will look at some of the befits of effervescent tablets and why many supplement lines have started to invest in this delivery method.
Easy Measurements
Unlike powdered supplements that must be properly dosed by the consumer, effervescent tablets are pre-measured and easily mixed into any liquid of choice. Even if a powdered supplement is stirred or shaken consistently, there is still a chance that it will be lumpy or inconsistent. With effervescent tablets, you can be sure the perfect mix is achieved every single time.
Simple Ingestion
Many people have difficulty swallowing traditional tablets. This is especially true when the required dose must be packed into a large form in order to achieve the optimal nutritional profile. Because effervescent tablets are quickly dissolved into liquid they can easily be swallowed while still providing a pleasant flavor and all of the benefits of the supplement. If you are targeting your product to older individuals, this is one benefit you will want to heavily consider.
Versatile Supplement Types
If you can dream it, it can likely be made into an effervescent tablet. Whether you are interested in a new multivitamin, pre-workout formula or anything in between, we are the perfect effervescent tablet manufacturer for you. If you are ready to get started, we would love to explain the next step in the process and make your dream product a reality.
LEARN MORE ABOUT TABLET MANUFACTURING
Why JW Nutritional for Supplement Manufacturing?
JW Nutritional can manufacture a wide variety of supplements to suit the needs of your customers. With the inclusion of our complete packaging solutions including bottles with lid closures, sachets, stick packs and zip-seal bags, clients can receive a complete product that is ready for order fulfillment. If you are interested in the vitamin manufacturing services we offer, please contact us today!