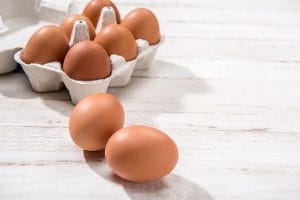 With the wide variety of protein options available, it's incredibly easy to fall into the "business as usual" viewpoint and focus on just whey protein powders. Egg albumen protein powder delivers optimal levels of protein for any bodybuilder or athlete that is looking to build muscle. Even better, it retains all of the health benefits you know and expect from traditional eggs in an easy-to-use powdered form that can be mixed into shakes or your weekly meal prep for an added protein boost.
The Benefits of Egg Albumen Protein Powder
Egg albumen protein powder is created from the healthiest part of the egg, the egg white. In most cases, the egg white composes most of the liquid weight of an egg while also containing the majority of the egg's protein content and essential vitamins and minerals. Because the egg white is used to create the egg albumen protein powder, you can provide a complete protein powder that doesn't include any of the fat that is found in the yolk. However, the benefits don't end there!
Dairy Free Protein – Whey protein and casein protein cannot be utilized by individuals that are lactose intolerant, making it hard for them to reach their protein goals with the wide variety of commercial protein powders that are available. Because it is dairy-free, egg albumen protein powder provides the same benefits while accommodating most dietary restrictions.
Ease of Use – Let's face it, cooking eggs can be a drawn out and tedious process. But, what if you had the opportunity to get the same nutritional benefits from a protein shake that you can easily and quickly mix? With egg albumen protein powder, you can quickly and easily increase your protein intake while getting the great benefits of eating eggs.
Enhanced Protein Synthesis – While whey protein is quickly absorbed by the body and casein provides extended release, egg albumen protein powder is somewhere in the middle. This means that protein synthesis and, potentially, satiety, will last longer to provide a more fulfilling experience.
Complete Protein – While plant-based protein powders are typically seen as a healthy alternative to whey, they generally are not considered a complete protein. However, egg albumen is considered a complete protein because it provides the 10 essential amino acids that are only available through food. This allows for improved support to anyone interested in building muscle mass since amino acids are the building blocks of protein.
Alternatives to Egg Albumen Protein Powder
Still not sold on the potential benefits that can be obtained by releasing an egg albumen protein powder as part of your product lines? That's OK! JW Nutritional is rooted in protein manufacturing and remains committed to providing the highest-quality protein products available for our clients. Other protein sources we are capable of manufacturing include whey protein isolate, whey protein concentrate, whey or milk protein hydrolysate, soy protein concentrate, hemp protein, and other vegan protein options like pea powder. No matter what your needs may be, the experts are JW Nutritional are here to ensure you create the perfect product to meet your business' goals and the goals of your customers.
Why JW Nutritional for Protein Manufacturing?
No matter what product you are hoping to add to your existing or new supplement line, JW Nutritional is here to help! With a wide variety of private label sports supplements ready for your branding as well as protein manufacturing services, it has never been easier to break into this growing industry. Ready to get started? Give us a call at (214) 221-0404 or contact us today!