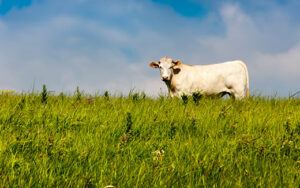 There are so many protein powder products on the market that it can be a daunting task to choose the best. Organic protein means that it is from a clean source, free of pesticides, antibiotics, and hormones. It comes from grass-fed animals free of GMOs (1).
As people get more concerned about their health and wellness, they are turning to non-GMO products, especially active people who take protein supplements. With protein powder, users have to consider their needs and health goals. For those looking to build muscle, choose whey protein.
Why Consider Grass-Fed Non-GMO Protein
Grass-fed protein is obtained from cows that are only fed grass. It is among the healthiest protein supplements you can find on the market. Here are some of the benefits of taking such supplements (2).
Improved Muscle Recovery: Among the things people grab after a workout is a smoothie. Taking a grass-fed non-GMO whey protein smoothie after a workout can help in muscle tissue repair and recovery.
Experience Weight Loss Results Faster: Non-GMO whey protein has a higher level of conjugated linoleic acid and fatty acids. These can enhance muscle growth and improve your metabolism. Both of these can help with weight loss.
Stronger Immune System: Whey protein derived from cows that were only fed grass comes with more antibodies, immune factors, high Serum Albumin, and Lactoferrin. Antibodies fight off bacteria and viruses in the body. Albumin is a type of protein that offers the body hormones and nutrients that help with tissue repair and growth. Lactoferrin also assists with regulating iron levels in the body to ensure that a person doesn't suffer from iron deficiency, which could lead to anemia.
What to Consider When Sourcing Non-GMO Protein Supplements
If you wish to add grass-fed non-GMO protein to your supplement line, you need to consider a few factors. Some of them include:
Taste
While whey protein is nutritious, some of the powders are not delicious and may come with chalky aftertastes. However, whey protein doesn't have to taste bad just because it is good for someone's health.
That is why you need to work closely with your protein supplement manufacturer to ensure that they don't compromise on the taste. Numerous options exist that can ensure that the protein tastes good. They are available in different flavors, and other varieties are not even flavored. Find out what options your customers prefer and have your orders customized.
Certifications
Before buying the supplements, you need to check the certifications to ensure that they are organic. Check for the organic certification seal on their packaging. Any food that is labeled as "Organic" needs to have at least 95% organic ingredients excluding salt and water.
Content
The amount of protein in the supplement depends on what you are looking for. Whether it is for weight loss or to gain muscle, check whether the protein contains the necessary amount to help meet those needs. You can also consider protein from plants such as hemp, brown rice, and peas added to your grass-fed non-GMO protein supplements.
Why Trust JW Nutritional
JW Nutritional has experience sourcing the best grass-fed non-GMO protein products to include in your supplements. We will get the best ingredients, create the formulation, and deliver the supplements to you. Give us a call today!
Ready to get started on your formulation or custom product? Click the link below to find out what is possible!
Why JW Nutritional for Supplement Manufacturing?
JW Nutritional can manufacture a wide variety of supplements to suit the needs of your customers. With the inclusion of our complete packaging solutions including bottles with lid closures, sachets, stick packs and zip-seal bags, clients can receive a complete product that is ready for order fulfillment. If you are interested in the vitamin manufacturing services we offer, please contact us today!
Sources: