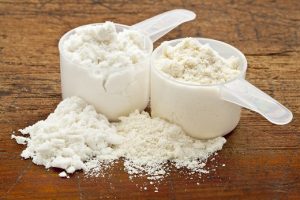 Protein powder supplements have taken on a new prominence in recent years. In fact, according to the most recent Nielsen data, the American protein market currently stands at $16 billion in sales annually. If you are ready to expand your supplement lines, here is why you should choose JW Nutritional as your protein manufacturer.
Protein Manufacturing Experience
JW Nutritional's roots can be traced to our original business function as a protein manufacturer. Since the creation of our company, we have remained committed to providing the highest quality protein powders available at an affordable price. Our experience as a protein manufacturer ensures a consistent and superior protein supplement every time.
Protein Powder Variations
It can hard to determine the protein source you want to use for your product. With the wide variety of protein sources available, and various intended uses, finding the right ingredients for your protein blend is important. The experts at JW Nutritional can help determine the best protein source for your supplement or help improve existing formulas.
Affordable Protein Manufacturing
Unlike most protein manufacturers, JW Nutritional understands that you may not need a large run production of your products. To help keep our protein manufacturing services affordable, we provide some of the smallest order runs in the industry. If you are in need or affordable protein manufacturing services, we would love to hear from you.
Versatile Packaging Options
Once your superb protein blend has been completed, you will likely want a great packaging option to catch a potential customer's eye. With JW Nutritional you get the best of both worlds with our available complete packaging and design solutions. Even if you use your own designers, our Quality Assurance team can help check your label for FDA compliance!
Why Choose JW Nutritional as Your Protein Manufacturer?
JW Nutritional provides superior protein blending and protein manufacturing services with a dedication to quality and affordability. With the addition of our Plano, Texas facility, JW Nutritional has established a dedicated protein manufacturing hub to ensure consistent and exceptional quality with every order. JW Nutritional also has a complete, automated packaging line for capsules and tablets to facilitate the packaging needs of our customers.