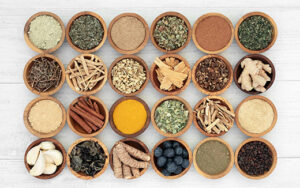 Adaptogens are organic herbs with medicinal healing properties. They function to prevent the negative impacts of stress on your body. Cognitive, hormonal, and immunological functions are just a few of the highly numerous physical effects of stress on the body. The hyperactive qualities of adaptogens work to offset these harmful effects.
Adaptogens are available in different forms. They can be purchased as teas, syrups, powders, and tablets. The idea of driving adaptogens is that they aid in your body's adaptation to metabolic, neurological, or physical stress. They are believed to activate your stress-protection mechanism and assist in bringing your system back to a healthy condition known as homeostasis (1).
Benefits of Adaptogens in your Formula
Adaptogens have been utilized for thousands of years in Ayurvedic medicine and are now more widely available in the West. According to certain practitioners, adaptogens have a lot of health benefits. It can enhance the immune system, regulate the body's functioning, increase attentiveness, boost strength, make the organ work properly, optimize stomach function, etc.
In a lab context, adaptogens may have chemical effects, such as inducing the release of hormones and changing stress-related molecules (2). For instance, estrogen levels can be increased or decreased among herbal adaptogens in many physiological conditions. It is illustrated that these chemical processes might support the body's overall working.
According to research, adaptogens can effectively support health for essential well-being and certain diseases and other issues when combined with other standard medicines. They've also been demonstrated to benefit those with high cholesterol and a few biological problems, notably those that may occur more commonly as people grow older.
Similarly, this organic medicine improves concentration and focus in patients with various chronic illnesses. Arctic roots have been clinically proven to boost body energy and reduce fatigue while having no noticeable side effects when combined with antidepressants (3). It also helps patients recover faster and feel refreshed after diseases like the flu.
Schisandra – an adaptogen, is discovered to be particularly effective in those tired and with low physical and cognitive competence. It has also been proven to be especially useful in treating some mental disorders, such as schizophrenia, and enhancing pulmonary function. One of its distinguishing characteristics is that, unlike other agonists such as caffeine, the body somehow doesn't quickly become habituated to it, enabling it to be consumed in the same doses effectively.
Likewise, taking cordyceps, another adaptogen acts as a stimulant and is considered beneficial to the liver, kidneys, and heart (4). While this is not entirely true, most researchers link cordyceps to longer lifespans and improved erectile dysfunction. A recent study indicated that taking it frequently for three weeks helped them work out longer.
Bottom Line
The idea of adaptogens is not a new one. They have long been used to enhance the body's capacity to react to stress, enhance energy and focus, boost mental capacity, and fend off exhaustion. According to the report, adaptogens may be helpful in the treatment of chronic diseases like those of the heart and the lungs.
Ready to get started on your formulation or custom product? Click the link below to find out what is possible!
Why JW Nutritional for Supplement Manufacturing?
JW Nutritional can manufacture a wide variety of supplements to suit the needs of your customers. With the inclusion of our complete packaging solutions including bottles with lid closures, sachets, stick packs and zip-seal bags, clients can receive a complete product that is ready for order fulfillment. If you are interested in the vitamin manufacturing services we offer, please contact us today!
Resources
1. WebMD: https://www.webmd.com/balance/adaptogens-what-to-know
2. Verywell Health: https://www.verywellhealth.com/what-are-adaptogens-4685073
3. Healthline: https://www.healthline.com/health/adaptogenic-herbs#healthbenefits
4. Eatingwell: https://www.eatingwell.com/article/292256/what-are-adaptogens-and-are-they-good-for-you/