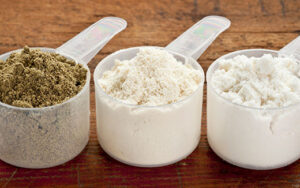 Whey is the liquid that remains once the milk has been curdled and strained. It s used as a byproduct when manufacturing casein and cheese. It also has numerous commercial uses. Whey protein [1] is among the most studied supplements worldwide for numerous health reasons. Adding it to your private label can be a great addition.
Benefits of Whey Protein
It is a Great Source of Protein
Whey protein is a high-quality protein that contains all the required amino acids. Additionally, whey protein is easily digested and absorbed from the stomach faster than other types of protein. These are the qualities that make whey protein one of the best dietary protein sources. There are three main kinds of whey protein powder namely:
Isolate (WPI)
Concentrate (WPC)
Hydrolysate (WPH)
Concentrate is the most common type of whey protein, and it is also the most affordable. Whey protein is mostly used as a dietary supplement by athletes, bodybuilders,and any other people looking to add protein to their diet.
Promotes Muscle Growth
As you age, your muscle mass declines to lead to fat gain. This can lead to the risk of numerous chronic diseases. However, you can slow, reverse, or prevent this adverse body composition change by combining diet with sufficient diet.
Strength training combined with eating high protein foods or supplements can help you prevent muscle mass loss. The best supplement to use is a high-quality whey protein. Whey is full of leucine, a branched-chain amino acid that is responsible for promoting amino acids growth. Therefore, whey can help in preventing age-related muscle loss and help improve strength.
Lowers Blood Pressure
Hypertension or abnormally high blood pressure is a major risk factor of cardiac disease. May studies have linked the use of dairy products with lowered blood pressure. The effects are a result of a family of bioactive peptides found in dairy known as angiotensin-converting enzyme inhibitors.
In whey protein, these inhibitors are known as lactokinins. Some animal studies have shown their benefits in how they affect blood pressure. Whey protein is, therefore, a great supplement for those struggling with high blood pressure.
Where to Get Your Whey Protein Formulation
If you are not sure where to get your whey protein formulation so that you can add the supplement to your private label, worry no more. JW Nutritional [3] has you covered. At JW, we many a lot of such products, and so, we have extensive experience and expertise.
Our formulation is like no other. We make it taste great so that your customers will keep coming back for more. Also, we never compromise on quality. At JW Nutritional, we are committed to delivering premium products that don't clump or have moisture issues.
We will deliver the right formulation as per your preference and needs. Get in touch with us today so that we can give you a quote and discuss what you expect from your formulation. We will help you get your private label products going even if you are new to this type of business.
Ready to get started on your formulation or custom product? Click the link below to find out what is possible!
Why JW Nutritional for Supplement Manufacturing?
JW Nutritional can manufacture a wide variety of supplements to suit the needs of your customers. With the inclusion of our complete packaging solutions including bottles with lid closures, sachets, stick packs and zip-seal bags, clients can receive a complete product that is ready for order fulfillment. If you are interested in the vitamin manufacturing services we offer, please contact us today!