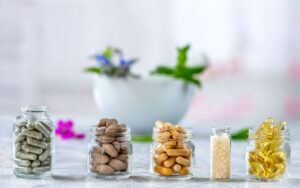 Strokes can be one of the most damaging health issues one can suffer in their lifetime. According to the CDC, more than 795,000 people in the United States have a stroke each year. This is the equivalent of one stroke every 40 seconds. While these accidents can be sudden, there are ways to prepare against strokes and recover from them using natural and botanical supplements.
As we enter May, American Stroke Awareness Month, it's important to shed some light on what causes strokes and how to increase stroke prevention and ease stroke recovery with natural supplements and physical remedies.
What Causes Strokes?
Before discussing how to prevent strokes, it's important first to learn what causes strokes. The chances of having a stroke are sometimes increased by hereditary stroke patterns, age, gender, and race, and therefore cannot be easily prevented. However, there are plenty of risk factors that can be managed and controlled.
These factors include:
Drugs and alcohol use
Smoking tobacco
Low physical activity
Unhealthy diet
Being overweight
Diabetes
Stress
Depression
High cholesterol
High blood pressure
These controllable risk factors can be prevented in very natural ways.
Natural and Botanical Supplements
There are plenty of botanical supplements that ease the risk factors that lead to a stroke and help with recovery after having a stroke. Many natural supplements improve blood circulation in the brain, which helps prevent any future strokes.
If you are looking into lowering your cholesterol, consider including bilberry and turmeric in your diet. Bilberry is a berry that improves cholesterol and reduces blood sugar levels. Turmeric is a spice that lowers cholesterol levels and helps prevent blocks in the arteries.
Improving memory and brain function is imperative to recovering from strokes. It also helps strengthen your brain activity to help prevent critical symptoms caused by strokes. Asian ginseng is a commonly used supplement in Chinese medicine, and it is known to improve memory. Gotu kola is a recovery herb known to boost cognitive function in people who have suffered from strokes. Ginkgo biloba has also been proved to increase brain function and help recover after a stroke.
A few other botanical supplements that have helped in stroke prevention include garlic for preventing blood clotting and destroying plaque and ashwagandha for antioxidants.
Physical Remedies 
Increasing physical activity is a great way to decrease the risks of having a stroke. Many forms of exercise will help with losing weight and reducing stress. However, specific physical activities can be regularly performed to prevent strokes and assist in stroke recovery.
Acupuncture is a common practice that relieves stress, eases pain, and manages muscle problems affected by strokes. It's important to note that a licensed acupuncturist must perform acupuncture for it to be safe and effective.
Massages are a great way to decrease stress and increase blood flow to the brain. If a recent stroke patient has issues operating a part of their body, massages that area can help ease pain and increase blood flow to promote movement.
Yoga therapy will help with stroke recovery. Regular practice of body awareness, stretching, and balancing will improve the range of motion and controlled movement.
Strokes are scary health accidents, but in many cases, they can be prevented. Incorporating healthy natural supplements and physical practice into your life can help limit your chances of having a stroke or help you recover after suffering one.
Ready to get started? Click the link below to find out what is possible!
Why JW Nutritional for Supplement Manufacturing?
JW Nutritional can manufacture a wide variety of supplements to suit the needs of your customers. With the inclusion of our complete packaging solutions including bottles with lid closures, sachets, stick packs and zip-seal bags, clients can receive a complete product that is ready for order fulfillment. If you are interested in the vitamin manufacturing services we offer, please contact us today!