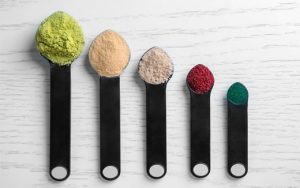 Our bodies have organs that carry out the natural process of detoxing for us such as our gut, lungs, liver, and yes, even our skin. These organs work hard to detox our body of pollutants from the air, water, food, and other naturally occurring compounds that we may take in such as mold, plants, and more. Detoxing your body from time to time with the aid of detox supplements can help flush out toxins and refresh your health, from the inside out. Here are our top 5 detox supplements to help get you going.
Organic India Triphala
This is often used in Ayurvedic medicine to help promote a healthy gut. Gut health is tied to the health and wellness of the rest of our body. Triphala also helps to stimulate elimination and decrease bloating.
 Magnesium
Magnesium works to neutralize the acid in our stomach and help move stool through our intestines. This means taking magnesium helps to boost our natural detox elimination process in the body.
Probiotics
Probiotics boost the number of good bacteria in your gut to help you absorb nutrients in a more efficient manner. Probiotics also work to balance out the negative effects of taking a course of antibiotics, had you been on some recently if you were sick, for example.
Vitamin C
Vitamin C is important in helping the body and skin through its natural detox processes. It helps with free radicals and promotes collagen production to keep us looking youthful and healthy.
Milk Thistle
Milk Thistle is widely known to be one of the best supplements used to aid the detoxification process. It is a natural herb that helps our liver by delivering antioxidants and anti-inflammatory properties. It can also help to reverse the damage that has been done to the liver from medications, alcohol, pollution, heavy metals, and more.
Top 5 Detox Supplements Conclusion
Our body has many organs that work to detoxify on a daily basis. The next time you feel like you may need a little extra help, try one or more of these proven detoxifying supplements above to help boost the natural processes.
Ready to get started? Click the link below to find out what is possible!
Why JW Nutritional for Supplement Manufacturing?
JW Nutritional can manufacture a wide variety of supplements to suit the needs of your customers. With the inclusion of our complete packaging solutions including bottles with lid closures, sachets, stick packs and zip-seal bags, clients can receive a complete product that is ready for order fulfillment. If you are interested in the vitamin manufacturing services we offer, please contact us today!