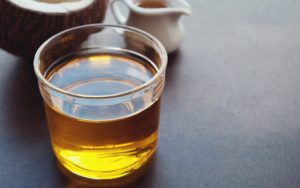 MCT Oil has grown in popularity over the years due to its many health benefits. MCT Oil has proven to boost cognition and slow the process of aging among many other attributes. Because of this, many people are reaping the rewards, and you should be too.
Benefits of MCT Oil
MCT oil is a popular supplement. It has been widely known and utilized by those in the fitness community for many years: namely, bodybuilders and athletes. However, you don't have to be superfit to take and garner the benefits of MCT oil. MCT is short for medium-chain triglycerides, which are shorter chain fats. This makes MCT's easier to digest. They are commonly found in coconut oil, palm oil, and dairy products.
MCT oil is packed with scientific-backed benefits including but not limited to:
Aiding in weight loss and exercise performance, according to Ying Wang "Medium Chain Triglycerides enhances exercise endurance through the increased mitochondrial biogenesis and metabolism."
Increases natural energy reserves
Improves cognitive function such as memory
Fights yeast and bacterial growth
Reduces the risk of heart disease by lowering cholesterol
Helps to manage blood sugar levels
Fights the aging process by fighting free radicals
Anti-Aging and MCT Oil
MCT oil has natural properties that act as secondary benefits to help slow the aging process. The following are a few examples of how this works:
Less Health Issues: Research shows those who consume high amounts of MCT oil reported fewer overall health issues, including age-related ones such as blood clots, heart disease, and stroke.
Fights Chronic Infections: MCT oil contains microorganisms that fight infections and decrease the build-up of arterial plaque, according to this study. If you suffer from a chronic infection, MCT oil could be highly beneficial in the healing process.
Cognitive Function: The increase in cognitive function from MCT oil consumption could help fight cognitive complications such as Alzheimer's disease, epilepsy, and autism. One study found MCT oil improved cognition levels of Alzheimer's patients by up to 20%.
How to Take MCT Oil
WebMD suggests taking "around 4 to 7 tablespoons" of MCT oil per day to see benefits. MCT Oil can be taken in capsule form for quick, easy, and effective digestion. Keeping the oil in uncooked liquid form is important in order to get the full effects. Some companies have begun incorporating MCT oil into coffees and creamers which is another effective way to take this supplement. No matter which route is best for you to consume, MCT oil is the supplement you need this year.
Ready to get started? Click the link below to find out what is possible!
Why JW Nutritional for Supplement Manufacturing?
JW Nutritional can manufacture a wide variety of supplements to suit the needs of your customers. With the inclusion of our complete packaging solutions including bottles with lid closures, sachets, stick packs and zip-seal bags, clients can receive a complete product that is ready for order fulfillment. If you are interested in the vitamin manufacturing services we offer, please contact us today!