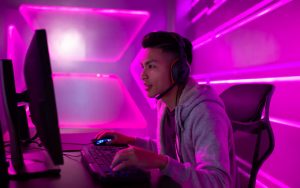 The pandemic exacerbated an already growing world of online gamers. While online gamers have long been labeled as unhealthy, that is no longer the case. Millions of people the world over play videogames, some even turn pro as a career. Not unlike physical sports, esports users are turning to supplements in order to help them increase their performance.
ESPORT MARKET
This growing market brings forth a huge opportunity for supplement manufacturers. This space is still fairly new and in need of proper and effective supplements for gamers to rely on. Early research has reported back the following nutrients as beneficial for those in the esports arena.
Vitamin A: helps support vision, which is crucial for gamers.
Vitamin B: supports energy and overall game performance.
Vitamin C: keeps the immune system functioning to ward off unwanted illness.
Vitamin D: a helpful dose of nutrition and energy for gamers.
Vitamin E: keeps the immune system functioning to ward off unwanted illness.
Magnesium: helps to process food and regulate muscle and nerve functions, as well as blood sugar levels.
Omega-3: helps with cognitive function and mental performance in demanding situations.
Nootropics: to enhance brain performance.
Caffeine: in small doses to help keep energy levels alert.
STAY IN THE GAME
Gamers are in need of supplements to help them to stay in the game and get their nutrition in one, easily-delivered method. Oftentimes gamers will need to take their supplements while actively gaming. This means there is a need for it to be quick or even solid so they get extra nutrition such as through a bar. In other cases, it may be best in liquid form. Esports performers also need help with emotional balance.
Keeping emotions regulated helps enhance performance. Vitamin D can help with serotonin production and boost creativity. Additionally, serotonin will help to counteract any stress from gaming. Gamers need to have sharp focus and concentration, a quick reaction speed, and mental balance in order to perform at top capacity in games.
Want to get in the game? JW Nutritional is ready with a team of experts to help you research and develop your new idea for the esports market. Gaming is not going away anytime soon, and neither will the need for proper supplements to keep their performance strong.
Ready to get started? Click the link below to find out what is possible!
Why JW Nutritional for Supplement Manufacturing?
JW Nutritional can manufacture a wide variety of supplements to suit the needs of your customers. With the inclusion of our complete packaging solutions including bottles with lid closures, sachets, stick packs and zip-seal bags, clients can receive a complete product that is ready for order fulfillment. If you are interested in the vitamin manufacturing services we offer, please contact us today!