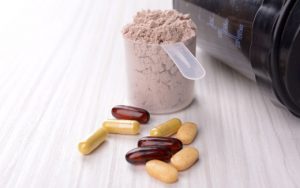 Nutritional supplements can come in many different forms and variations. At JW Nutritional we manufacture several different supplement types or forms of nutritional products based on a companies particular needs. A few of the main types of tablets, capsules, powders, and liquids. Why would a particular supplement come in one form and not another? Below we detail the most common forms of supplement manufacturing and the purposes and benefits behind each one.

TABLETS
These tend to be the most cost-effective for a company when looking for a manufacturer. They are easy for the consumer to swallow, easy to carry, and do not require a minimum dosage. Tablets can also have unpleasant tastes easily covered by sugar or coatings. Tablets are most commonly used for multivitamins and other vitamins, mineral, and herb supplements.
POWDERS
Powders are the most portable form of supplementation. Powders can hold a variety of flavors and grind down many different ingredients from plants to vegetable to protein variations of whey, soy, or plant-based proteins. These are most frequently used by bodybuilders in forms of pre and post-workout powders, creatine, and protein powders.
CAPSULES
Capsules host a variety of possibilities with the range of being timed-release, having different shapes, sizes, and colors or being powder or liquid. Capsules are easy to carry and consume
 LIQUIDS
Liquid supplements are a great option for sports and energy drinks. Other options include probiotic drinks, post-workout fuel, protein drinks, and multivitamin supplemental beverages. The liquid form can take on a host of color and tastes and be offered either flat or carbonated.
 In 2020 some new trends have hit the supplement market. One of the biggest is brands offering clean labels, with clean ingredients. According to an article in Natural Products Insider, multivitamins are the number one trend of 2020. Multivitamins are "the largest single category tracked by Nutrition Business Journal, are projected to emerge from a sales slump to grow 17.1% in 2020".
Consumers are not as drawn to the one size fits all approach to supplements and health. We are becoming more aware that each of our health needs is tailored, and with such so should be our supplements. Lastly, powdered versions of fruits and vegetables have been making waves in 2020 along with the plant-based trend. More consumers "demand clean and plant-based foods and supplements".
Ready to get started? Click the link below to find out what is possible!
Why JW Nutritional for Supplement Manufacturing?
JW Nutritional can manufacture a wide variety of supplements to suit the needs of your customers. With the inclusion of our complete packaging solutions including bottles with lid closures, sachets, stick packs and zip-seal bags, clients can receive a complete product that is ready for order fulfillment. If you are interested in the vitamin manufacturing services we offer, please contact us today!