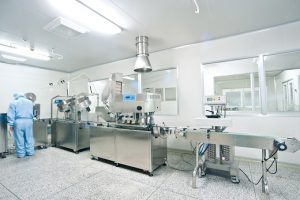 To ensure you are getting the nutritional products you deserve and maintaining high customer standards, it is important to choose your supplement manufacturer wisely. In many cases choosing the right fit for your specific needs can become easier by determining what certifications your supplement manufacturer has. Here are some of the common certifications you should look for when researching supplement manufacturers:
Good Manufacturing Practices Certification
For over 60 years, the National Sanitation Foundation has established itself as one of the most respected and trusted third-party certification providers for the nutritional supplement manufacturing industry. To achieve Good Manufacturing Practices (GMP) Certification through the National Sanitation Foundation, the entire manufacturing facility, including the processes and employees, are thoroughly inspected to determine compliance standards have been met. Strict guidelines ensure only the best supplement manufacturers are eligible for GMP certification.
Vendor Qualification Program
Sourcing the best possible ingredients for your nutritional supplements is an absolute necessity to retain the quality and effectiveness that your customers have grown to expect. At JW Nutritional we believe that the quality of your products directly correlates with your ability to succeed in the nutritional or sports supplement industry. For this reason, finding a supplement manufacturer that operates under a strict vendor qualification program, like JW Nutritional, can ensure a consistent quality that is unmatched.
Dietary Accommodations
Depending on your target markets, specialized ingredients or capsule materials may be required to meet varied dietary restrictions. To reach a broader market share, many supplement line owners have started utilizing vegan/vegetarian capsules, halal certified ingredients and natural colors. Finding a supplement manufacturer that has an in-house Research and Development team is imperative for perfecting your nutritional supplements and achieving the desired end product.
In-House Laboratories
Across the nutritional supplement industry, a dangerous practice of using dry-labs to replicate ingredient results has started. When this happens, an incorrect Certificate of Analysis will often be accepted from an ingredient manufacturer with no questions asked. This can be avoided through the use of a supplement manufacturer that independently tests your ingredients for quality and efficacy.
Why JW Nutritional for Supplement Manufacturing?
As a U.S. supplement manufacturer, JW Nutritional can create superior products for our clients. Depending on the process and whether we are bringing in new ingredients, creating custom formulas in the R&D stage can take anywhere from one week to one month. That includes theoretical development, quoting, making test batches and scaling up the test batches when necessary.
Call us at (214) 221-0404 or contact us today to get started!