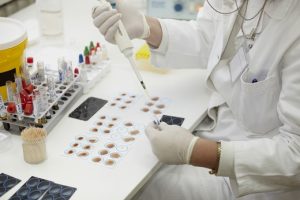 JW Nutritional is deeply rooted in providing superior product manufacturing with a commitment to quality and compliance. In modern years, dry-labs have become prominent within the supplement manufacturing industry, detracting from quality substances and in some cases making them dangerous. JW Nutritional is adamantly opposed to this practice.
What is a Dry-Lab?
There are many laboratories functioning today that are considered dry-labs. With dry-labbing, ingredient manufacturers will send their own Certificate of Analysis, which will often be duplicated by the dry-lab. In some cases, the lab will perform the bare minimum of testing needed then claim the ingredient manufacturers results as their own.
Avoiding Dry-Lab Testing
There are many ways you can avoid being duped by a dry-lab. It is important to ensure your ingredients are being properly tested to avoid legal problems and provide your customers with the best product possible. You can avoid dry-lab testing by doing the following.
Don't Be Specific – If the lab knows what result you are expecting from the testing, they are more easily able to regurgitate that result back to you. Identify the ingredient being tested, but don't go too far into detail.
Lab Visitation – As a client you are entitled to see the process of testing your ingredients. If you are unsure of the results you are receiving, visit the lab in person to see the equipment and process being used.
Test Them – If you have known results on an existing sample from a reputable lab, send that sample to the suspected dry-lab to validate the result. If the sample has known failing results and receives a passing grade, you likely won't want to use that lab.
Why Choose JW Nutritional?
If you are looking for quality ingredients from vendors that have undergone strict vetting, JW Nutritional understands your concerns. We maintain a high commitment to ensure your products are manufacturing in an NSF certified facility with only the highest-quality ingredients. Experience the reason so many supplement lines partner with us today!
---
If you are interested in manufacturing your supplements with a reliable manufacturer, JW Nutritional would be happy to help you! With two facilities encompassing over 120,000 square feet within the Dallas-Fort Worth metroplex, we can ensure fast shipping and reception of incoming ingredients and outgoing completed orders. To get started, contact us or call us at (214) 221-0404 today!