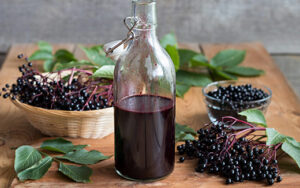 Elderberry is a gift of nature. It is one of the most commonly used healing plants, a solution to numerous ailments. The nutritional and health benefits it offers are uncountable.
What is Elderberry?
Elderberry, a purple fruit, belongs to multiple species of the Sambucus tree, a flowering plant in the Adoxaceae family. Sambucus nigra, commonly referred to as European elderberry or black elder, is one of the most well-known types.
Elderberry can treat multiple ailments. It has widely acted as an immune system booster, which assists the body in fighting off fevers and other respiratory illnesses.
Nutritional Benefits of Elderberries
Elderberry has a high nutritional value. It is richly packed with multiple vitamins and antioxidants. A bowl of elderberry contains 52 milligrams of vitamin C, which provides 57% of the daily calories. Elderberries also provide 10 grams of fiber per bowl of fresh berries, which is approximately 36% of the recommended intake.
Elderberries include the antioxidant flavanols quercetin, kaempferol, and isorhamnetin. These compounds, which are also effective antioxidants with anti-inflammatory qualities, give the fruit its distinctly rich black-purple hue.
Health Benefits of Elderberries
Due to its medicinal and healing properties, elderberry has a wide range of health benefits (1). It is used to treat constipation, muscular stress, breathing infections, headaches, kidney diseases, and HIV and AIDS. It has several antiviral properties and is used indigenously as a treatment for fever and rheumatism. In ancient times, it was used by the people of Egypt to lighten the complexion and heal blisters.
Research has demonstrated that black elderberry extracts and flower flushes can help decrease the intensity and duration of influenza. In one study, 32 participants with influenza and cold took capsules containing 175 mg of elderberry juice (2) 4 times per day for two days. They reported that symptoms like fever, migraines, cramps and runny nose had subsided within 24 hours. In another survey, 60 participants were given 15 ml of elderberry syrup 4 times daily, and their colds started improving.
According to the American Nutrition Association (ANA), elderberry cleansers' antibacterial properties can assist in treating acne. This is because it contains high flavonoid amounts that may have anti-inflammatory and antioxidant qualities. Moreover, it aids in preserving skin tissue from free radicals that contribute to several issues, i.e., dark spots and scars.
Precautions and Side Effects
Though elderberry is very beneficial for health, its overconsumption can be poisonous. Unripe elderberries (3) can cause stomach problems like vomiting, loose stools, nausea, etc. This is not suggested for children under 18 and pregnant women. It's also important to note that elderberry syrup has high sugar. Undoubtedly, elderberry offers some intriguing potential advantages, but one must take care of specific risks while using it.
Bottomline
Elderberry is one of the oldest therapeutic herbs that is still used. It has numerous health benefits as well as nutrient benefits. Most Europeans harvest and utilize elderberries to cure fever, flu, cold, rheumatism, and burns. However, the tree's uncooked fruits, twigs, and stalks are considered to be poisonous and may cause stomach issues.
Ready to get started on your formulation or custom product? Click the link below to find out what is possible!
Why JW Nutritional for Supplement Manufacturing?
JW Nutritional can manufacture a wide variety of supplements to suit the needs of your customers. With the inclusion of our complete packaging solutions including bottles with lid closures, sachets, stick packs and zip-seal bags, clients can receive a complete product that is ready for order fulfillment. If you are interested in the vitamin manufacturing services we offer, please contact us today!
Resources
1. Nourish by WebMd: https://www.webmd.com/diet/elderberry-health-benefits
2. MedicalNewsToday: https://www.medicalnewstoday.com/articles/323288
3. WebMd: https://www.webmd.com/vitamins/ai/ingredientmono-434/elderberry