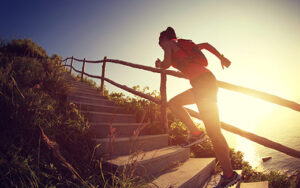 Consumers worldwide are now focusing on health goals such as disease prevention and management instead of the cure. They are also re-evaluating their lifestyle and diet choices more seriously than previous generations.
Getting proactive towards health greatly influences a person's choice of drink and food products when looking for daily product offerings and sports/functional nutrition products. That is where active nutrition is coming in (1).
What is Active Nutrition?
Active nutrition is defined as a lifestyle choice whose primary focus is on optimizing a person's both mental and physical performance. The evolution of sports nutrition is formulated to support all consumers regardless of their age provided they engage in living a healthy lifestyle that involves physical exercise. Such consumers use sports nutrition daily, and therefore, they are switching to sports nutrition products that are a better-for-you option as opposed to traditional food, drinks, and snacks.
Who is Turning to for Active Nutrition and Why?
Since active nutrition is not limited to age, anyone can adopt it. It has become one of the emerging nutrition trends worldwide. It has been adopted by both athletes and active consumers who exercise regularly.
Consumers are choosing a proactive change in their lifestyles to help improve their health. The fast-moving consumer goods (FMC) gurus' consumer insights have shown that 61% of people are looking to improve their health (2).
Among the reasons why more people are choosing the proactive approach to change their health and diets is because they understand that each health aspect is interlinked, and therefore these consumers are choosing a holistic health approach to their lifestyles.
The proactive approach adopted by consumers to enhance their health has also greatly changed their snacking habits. They are now not relying on traditional products such as chocolate. Instead, they are choosing low sugar and high protein alternatives.
That change is influenced by consumers feeling that they always need an energy boost all day long. These consumers are now more interested in grocery products that help keep their energy levels high all day. They are choosing products that have a natural energy boost.
So, what are these consumers looking for from active nutrition products?
Athletes wish to become champions in their fields, and this is what they expect from active nutrition products.
Enhanced endurance
Fast recovery after exercise or a competition
Maximum performance
Sustained energy
Balanced blood sugar levels
With active consumers who don't compete, they have their own set of benefits they expect to reap from active nutrition products. Besides feeling and looking good, they also want to:
Have a long-term health
Enjoy sustained energy
Have enhanced performance
Body firming and fat burning
Do away with unhealthy sugars and carbs
Get the Best Nutritional Products
Are you looking for the best sports nutrition products? At JW Nutritional, we have your needs covered. We are manufacturers of protein nutrition products. These include tablets, capsules, and flavored powders for general health, sports supplements, and weight loss products.
Get in touch with us today for the best active nutrition products to help healthily support your active lifestyle.
Ready to get started on your formulation or custom product? Click the link below to find out what is possible!
Why JW Nutritional for Supplement Manufacturing?
JW Nutritional can manufacture a wide variety of supplements to suit the needs of your customers. With the inclusion of our complete packaging solutions including bottles with lid closures, sachets, stick packs and zip-seal bags, clients can receive a complete product that is ready for order fulfillment. If you are interested in the vitamin manufacturing services we offer, please contact us today!
Sources:
1. https://www.nutritioninsight.com/news/the-rise-of-active-nutrition-industry-roundtable-weighs-in-on-holistic-category.html
2. https://fmcggurus.com/blog/fmcg-gurus-how-sports-nutrition-is-evolving-in-2020/