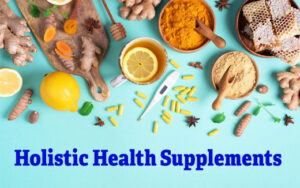 Holistic health remedies, herbs, and vitamins have existed for ages. However, they have since become extremely popular worldwide. Alternative medicine is considered a crucial part of healthy living, which has contributed to its popularity.
Vitamin pills have been available for over 50 years, and herbs have always been staples in kitchens and the sickroom for centuries. Only two decades ago, herbal remedies had to be prepared at home or bought from health food stores.
However, that is not the case today since you can find different vitamins, herbs, and minerals in natural sources. You don't need a prescription to buy supplements in drug stores, online, or health food stores. You can also find them in some grocery stores. Over the years, [1] there has been an exponential growth of sales from supplements, especially holistic health ones.
Ingredients You Can Add to Your Private Label Products
Here are [2] some of the most popular holistic health supplements.
Lemon Balm
Lemon balm is a wonderful herb that grows easily at home for use in cooking. It can also be consumed as a supplement. The herb is used for its powerful antioxidant properties that help protect the body from any oxidative stress. It also helps support a balanced mood and a healthy immune system.
The herb can be a great addition to your private label products. It also has the potential to improve alertness and focus. It is, therefore, the best remedy for those looking to decrease their caffeine intake.
Rhodiola
Rhodiola is another great herb that can help in managing the effects of stress and enhancing stamina and energy levels. Rhodiola is a herbal adaptogen, which can be used to manage stress by shifting the body's stress response.
The ingredient is also great for those who experience stress and insomnia during periods since it can help balance their mood and leave them feeling energized. Anyone struggling with stress can benefit from Rhodiola.
Holy Basil
Holy basil is also known as Tulsi, and it is a herb used to enhance cognitive function and lower stress levels. The herb was initially introduced as a holistic health supplement through Ayurvedic medicine. Today, it is considered the top adaptogen for reducing stress and inflammation in the body.
Holy Basil also works as an antihistamine, making it a great supplement for those suffering from high-histamine and inflammatory symptoms. You should, therefore, consider adding it to your private label products.
Ginger
Most people are familiar with ginger and its benefits. Often used in Indian and Asian cuisines, ginger is known for the benefits of its digestive effects, which makes it a key ingredient in most teas that support digestion.
Ginger can also help support heart health and promote a healthy immune response. That is why it has continued to become a popular supplement and a cooking herb. It helps in managing digestive symptoms and improving digestion.
Where to Get Your Holistic Health Supplement Formulation
If you are looking for a formulation to help you create a new private label product, JW Nutritional, LLC can help. We can source, formulate, and manufacture your private label option so that you don't have to go through the hassle. Call us today for a quote.
Ready to get started on your formulation or custom product? Click the link below to find out what is possible!
Why JW Nutritional for Supplement Manufacturing?
JW Nutritional can manufacture a wide variety of supplements to suit the needs of your customers. With the inclusion of our complete packaging solutions including bottles with lid closures, sachets, stick packs and zip-seal bags, clients can receive a complete product that is ready for order fulfillment. If you are interested in the vitamin manufacturing services we offer, please contact us today!