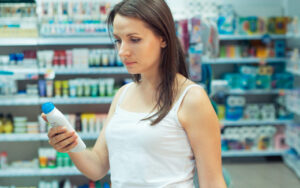 The use of natural and botanical supplements has been steadily increasing over the past decade, especially with the younger generation. Experts predict their popularity will only increase in the coming years.
According to Grand View Research, "In 2019, the global botanical supplements market size was valued at $27.85 billion. From 2020 to 2027, the market size is expected to expand at a compound annual growth rate of 7.4%." (1) The botanical community has increased innovation in manufacturing supplements for many functions, including weight loss, muscle repair, and energy balance. By providing a wide range of uses, the market for botanic supplements is expected to go through tremendous growth.
Natural supplements are not a new product to the general public. So why has the younger generation sparked interest in this market?
1.    There's More Value in Preventative Healthcare
One of the most notable aspects of the younger generation (Millennials and Gen Z) is their awareness of how substances affect them and the world around them. They value taking care of their bodies now to prevent any health complications in the future. This trend can be directly seen in the increase in demand for natural supplements.
The young generation is known to be more health-conscious. It's much easier to see past the temptation of living an unhealthy lifestyle when the information on healthy living is available at the click of a button. With the evolution in modern medicine, it's easier than ever for young people to prioritize their health.
Millennials and Gen Z are more informed on what chemicals are harmful to their bodies long-term. They want to rely on natural supplements that they understand to increase their health organically.
2.    Botanical Supplements Have Been Used Longer
A rising trend within the young generation is looking back at what worked in the past and then adapting those practices for the present.
Botanical supplements have been used in medicinal practice for thousands of years. Cultures that have practiced medicine based on herbs include:
Egyptians
Greeks
Romans
American Indians
Africans
Aborigines
and Maori
"In China, traditional herbal preparations still account for 30%-50% of the total medicinal consumption." (2)
Young people value how our ancestors used organic materials to aid their immunity. While the young generation is still using modern medicine such as vaccines and antibiotics, botanical supplements are more favored for daily use.
3.    Botanical Supplements Are Seen as Healthier
Because botanical supplements are natural, they are seen as healthier. Young people have become skeptical of ingesting chemicals and other ingredients that are foreign to them. They are more likely to consume supplements they know grow organically.
The young generations are interested in living in harmony with the earth and sustainably using its materials. The importance they place on climate change has increased their desire to nourish their bodies with sustainably sourced materials. They want to gain nutrients naturally versus chemically created supplements.
Botanical Supplements Are the New Trend
Botanical supplements are increasing in popularity partly because of the spread of positive information about them on the internet. Younger people have increased their intake of natural and botanical supplements because of the information they are presented about the effects of preventative healthcare, the history of botanical medicine, and the overall health benefits these supplements have over chemically made supplements.
Sources:
(1) https://www.grandviewresearch.com/industry-analysis/botanical-supplements-market
(2) https://www.brettelliott.com/herbal-medicines-gaining-popularity-worldwide/
Ready to get started? Click the link below to find out what is possible!
Why JW Nutritional for Supplement Manufacturing?
JW Nutritional can manufacture a wide variety of supplements to suit the needs of your customers. With the inclusion of our complete packaging solutions including bottles with lid closures, sachets, stick packs and zip-seal bags, clients can receive a complete product that is ready for order fulfillment. If you are interested in the vitamin manufacturing services we offer, please contact us today!