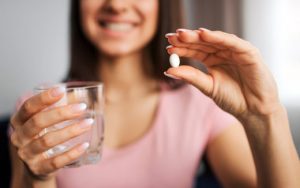 We have created a small list natural supplements that can help to alleviate Migraines and Headaches. The World Health Organization reported that nearly 75% of all adults between the ages of 18-65 have experienced a headache at least once in the last year. Of those, 30% reported experiencing a migraine. When you feel a headache coming on or are deep in the throws of one, it can be tempting to reach for some Ibuprofen or other pain reliever. Instead, try incorporating some of these four supplements that have proven to be beneficial in alleviating migraines and headaches.
Magnesium
Magnesium is highly effective in the treatment of both headaches and migraines and can help prevent them entirely in some cases. Some reports show that those who have deficiencies in magnesium are more prone to headaches and migraines. Magnesium has proven to be so effective in treating headaches and migraines that some places will give "magnesium intravenously [to] help reduce acute migraine attacks," according to this review.
 Vitamin D
Vitamin D is incredibly impactful to our bone health. The American Headache Society reported that nearly 40% of those who experience migraines had low levels of Vitamin D. The report went on to state that those who had Vitamin D deficiencies developed migraines early in life. Vitamin D is crucial, especially for women. It can be taken daily in capsule form.
 Vitamin B-12
Vitamin B-12 is also known as riboflavin and has had a helpful role in reducing the time and pain level of migraines with no reported serious side effects. A neurologist from Providence Saint John's Health Center in California, Clifford Segil, DO, had this to say: "Among the few vitamins I use in my clinical practice, it helps more often than the others many neurologists use." Vitamin B-12 can be taken daily in capsule form.
 CoQ-10
Short for Coenzyme Q10, this substance helps with several important bodily functions such as protecting our cells from oxidative damage. While larger studies are needed in order to prove the full efficacy of CoQ10 for migraines, there is enough to show it can help. The American Headache Society ranks it as "possibly effective," due to its overall benefits with blood and cells, which affect headaches. It can be taken daily in capsule or liquid forms.
Supplements for Relief
All of the above supplements can be manufactured by JW Nutritional for distribution. These four supplements are natural and effective in both the treatment and prevention of migraines and headaches. The next time you look at supplements, consider if it has any from our list included.
Ready to get started? Click the link below to find out what is possible!
Why JW Nutritional for Supplement Manufacturing?
JW Nutritional can manufacture a wide variety of supplements to suit the needs of your customers. With the inclusion of our complete packaging solutions including bottles with lid closures, sachets, stick packs and zip-seal bags, clients can receive a complete product that is ready for order fulfillment. If you are interested in the vitamin manufacturing services we offer, please contact us today!