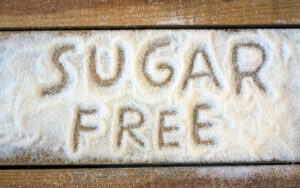 Do you have a sweet tooth? Does the added spoon of sugar interest you? People who take a liking to sugar a little more than others run a higher chance of suffering from diabetes. Maintaining blood sugar levels becomes essential for them as unwanted spikes can cause harm. This led to the rise of low-calorie sweeteners as a substitute for sugar to enjoy all kinds of food without compromising on health.[1] Complications of diabetes often lead to nerve damage and cardiovascular disease. Hence, in this article, we focus on the best sweetener options for people who keep their blood sugar levels under control!
Stevia
They are made from chemical compounds extracted from the leaves of plants. Its highly processed and purified form is 300 times sweeter than sucrose but is calorie-free. It helps keep your blood sugar levels in check and has a bitter aftertaste. Stevia is often more costly than other sugar substitutes in the market.
Tagatose
Tagatose is found to have a low glycemic index which supports the treatment of obesity. It is a form of fructose rarely found in fruits like apples, oranges and pineapples. They are known to be 90% sweeter than sucrose and are used by manufacturers as a low-calorie sweetener and stabilizer. They are hard to find locally due to their immense price.
Sucralose
Sucralose is heat stable and is one of the most prevalently used artificial sweeteners across products. It is an artificial sweetener made from sucrose-containing very few calories. It is known to be 600 times sweeter than table sugar.
Aspartame
Aspartame is another common artificial sweetener in the United States. They are used in various products, including diet soda, since they are almost 200 times sweeter than sugar. They are, however, not advised to bake as they break down at high temperatures. They have also been rendered harmful to people suffering from the rare genetic disorder phenylketonuria.
Acesulfame potassium
It is also known as Ace-K and is 200 times sweeter than sugar. Manufacturers often combine it with other compounds to reduce the bitter aftertaste. It is one of the best available low-calorie sweeteners in the market and is preferred for various food products.
Saccharin
Saccharin is one of the most widely available artificial sweeteners in the market. They are available in various forms across products. It is a zero-calorie sweetener and has been credited as 200-700 times sweeter than table sugar.
Neotame
This is one of the best artificial sweetener choices for baking as it can withstand high temperatures. It is low in calories and can be used with all kinds of food except meat and poultry. They are widely available too.
Artificial sweeteners have become quite prevalent in today's world, with people being health conscious. It is essential for those with diabetes to know what sweeteners to use to not compromise on taste but yet stay fit. We have many sweetener options available for use in your private label manufacturing project. Let us know your goals and we can work to develop a custom formula that will work for your audience.
Ready to get started? Click the link below to find out what is possible!
Why JW Nutritional for Supplement Manufacturing?
JW Nutritional can manufacture a wide variety of supplements to suit the needs of your customers. With the inclusion of our complete packaging solutions including bottles with lid closures, sachets, stick packs and zip-seal bags, clients can receive a complete product that is ready for order fulfillment. If you are interested in the vitamin manufacturing services we offer, please contact us today!